Merry Christmas!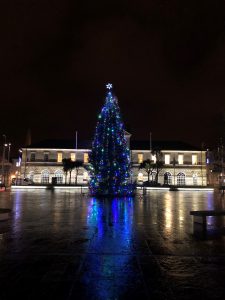 Merry Christmas!
This year we have decided not to send branded Christmas cards to our clients or colleagues.  As well as the environmental reasons for not doing so, we would rather donate an equivalent (or possibly greater) sum to charity than the cost usually incurred in having such cards printed and sent out.  We have therefore posted a Merry Christmas message on each of our social media channels.  For every 'Like' on our Merry Christmas post on LinkedIn, Facebook, Twitter and Instagram, we'll donate GBP 0.10 (10p) to NI Chest Heart & Stroke.
If you believe this is a worthwhile cause, please:
– Visit our pages on either LinkedIn, Facebook, Twitter or Instagram;
– Hit 'Like' on the Merry Christmas post;
– Follow our page; and
– Tag the names of others you think might like this initiative in the comments so they might also add to the amount we will donate!
Terms and Conditions
We will donate up to a maximum of £500 (representing up to 5,000 'Likes' being the cumulative total on each of our pages on Facebook, Twitter and Instagram) to NI Chest Heart & Stroke. 'Likes' above that number will not be counted, and only 'Likes' registered up to and including 7.00pm on 24 December 2020 will count towards the final calculation.  Should the number of 'Likes' be less than 2,500 by the closing date we will round up the donation to a minimum of £250.